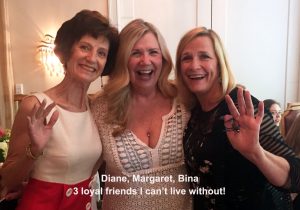 I saw a sign in a store today that read, "Friends are God's way of taking care of us." I stopped to reflect on that. In my mind, I was taken back to 9 months ago when out of the blue I felt God whisper to me, "Would you like to know one way I have been loving you all of your life?" It took me by surprise but I quickly responded with YES. One by one He brought to mind the wonderful people He put in my life from the time I was 6-years-old that loved me unconditionally and cheered me on as I struggled to understand who I was and where I fit in this world. And then I thought about the dear friend I had dinner with a few nights ago who is going through an extremely difficult time. The age difference between us makes me age eligible to be his mom. Nearly all of the people God sent into my life to help me were older than me as well.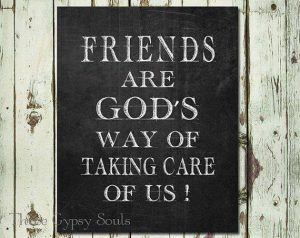 While looking at the sign in the store, my mind shifted to one of my dearest friends who is also going through trying times with her family. And then I thought about friends who are dealing with serious health issues. So what exactly does the sign mean, "Friends are God's way of taking care of us?" Friends lend an ear, offer a hug, encourage us when we need it, but I think the best thing they do is pray for us. The young man I had dinner with shared with me that he didn't have anyone that would go the distance and stand in prayer for him so he can hear from God on the direction he should go. He's so broken hearted he can't pray for himself in this area. I had a wise friend explain to me one time that when we are so full of pain and fear and discouragement, that is when our friends hold our arms up through prayer. She was right. I've been on the receiving end of that many times. So now it's my time to hold up the arms of my friends and pray them through their difficult days.
As I've pondered this today I thanked God and expressed my deep appreciation for the many people He has sent into my life that love me, encourage me, and always expect the best from me. How can I not offer unconditional love and forgiveness to others when I've been given so much? I'm also learning that most of the time when someone hurts our feelings we shouldn't take it personally because it's usually just a sign of issues they are working through. I'm reminding myself to cut others the same kind of slack I need them to give me.
So yes, I think God sends friends to help us get through life. And I'm really glad He does. My friends are one of the greatest joys in my life. So to all of my friends THANK YOU for being my friend. Ok, how many of you heard the theme song from the tv show Golden Girls playing in your head when you read that phrase????